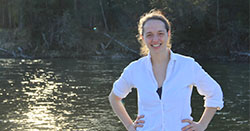 Welcome to D.K. Wright Construction! Please, feel right at home - take time to have a look around and share our appreciation of beautiful North American craft traditions using wool. Classic rug hooking, rug braiding, needlepoint and wool applique are deeply satisfying and versatile crafts that are easy to learn, completely relaxing and useful to boot. D.K. Wright Construction was set up as a place to supply crafters on the Continent with tools. materials and inspiration to make small furnishings, home accents and personal accessories using wool. If you're a newcomer to rug hooking, rug braiding, needlepoint or wool applique and leave with the feeling of having discovered something special, or if you're an old hand and are pleased to have found a supplier in Europe, then we've done our job.
Growing up, my family divided its time between Northern New Jersey and a farm in Missouri. A seasonal juxtaposition of urban and rural, traffic and roosters, commuter trains and irrigation systems, skylines and cornfields. All this engendered an admiration of all things technical, folksy and a bit off-center.
In 1990, I moved to Berlin, Germany. There I was lucky enough to know more than my share of talented and witty artists and craftsmen who shared with me their workspaces and their insights. It was there that I spent hours hanging out in second hand stores poring over old magazines, irons, clocks, tools and gadgets and badgering the storekeepers to tell me all about each item. It was there that I realized the value of using unique, self-made (and sometimes weird) objects in everyday life. It was there that I wanted to give back by sharing a connection with North American arts and crafts.
D.K. Wright Construction was my family's heavy construction company in the 60s and early 70s. It's life was cut short when our father died in an accident. Giving the company new life as a craft company is meant as a tribute and an effort to carry on combining artsy stuff and technical stuff.
For the last 10 years I've lived in an area of Bavaria that is a little bit rural and a little bit urban. Traditions have been woven into everyday life before a gorgeous alpine backdrop. The sources of inspiration are endless here and I'm very thankful.
I look forward to hearing from you - thoughts, ideas, your hooking/braiding/embroidering/sewing stories.